Are you thinking of purchasing a greenhouse or high tunnel and going into business? For the newbie, you probably have concerns about energy costs, best ventilation practices, and how to best invest your hard-earned money.
Here at Advancing Alternatives, we want to help you make the best decisions that will get you off on the right foot.
The trend toward natural ventilation
For most growers in the temperate zones, natural ventilation is the best choice for climate control and cooling in a greenhouse. Natural ventilation offers many advantages over the traditional fan and louver cooling, a big one of course, being the energy savings.
"It depends on the use, but the trend is toward natural ventilation," says John W. Bartok, Jr.,  a consultant who does energy audits for green industry businesses and works with the USDA on energy issues. "Even high tunnels, which generally never had vents–some are now putting them in to allow for natural ventilation."
Bartok contributes this trend to the increasing costs for electricity, the costs of fans and fan installation, and the 'positive ventilation" that is achieved with natural ventilation.
Cost savings with natural ventilation
Natural ventilation accounts for 80% or more of the ventilation in a greenhouse, according to Bartok, something that is costly to achieve with fans alone.
"You need to run a lot of exhaust fans to recoup the amount of air that would flow through natural ventilation," says Dave Stoltzfus, President at Advancing Alternatives.  For instance, he says, "if you have three, 36'  fans in a 30' X 96' greenhouse you would still fall short of providing the recommended air flow of 40,000 cu.ft/min. Natural ventilation will easily provide that amount of airflow without having to turn on a fan".  
Stoltzfus adds, "If you open up the sidewalls 6ft. on a 30' X 96' greenhouse and the air is moving at two mph–and it is uncommon that it would be less–natural ventilation will move the air through fairly quickly."
And as a final note, Stoltzfus says not all growers take into account that fans must be kept running during the heat of the summer–when the greenhouse is most likely empty–just to keep the greenhouse poly from deteriorating. Natural ventilation will eliminate the need to run fans over the summer months, further reducing energy costs.
Better ventilation throughout
In addition, Bartok says fan cooling can result in a temperature difference of up to 8 degrees from one end of the greenhouse to the other, possibly resulting in uneven plant growth. Properly configured natural ventilation systems offers more even temperatures throughout a greenhouse or high tunnel and overall better environment for growing plants.
"People are definitely finding out that the environment of your greenhouse is what controls the quality of your product," says Stoltzfus.
Manual controls offer affordability, more labor
A lot of growers entering the industry install manual controls to open up the sidewalls, louvers, and ridge vents of a greenhouse. Manual controls are less expensive than installing mechanical controls, but they are also pretty labor intensive. Someone has to be nearby at all times to open and close vents: when the sun comes out when it goes under a cloud, or there is a sudden change of weather.
"I would never tell anyone to rely solely on manual controls for natural ventilation," says Stoltzfus. "But people do it because of budgetary reasons." He says he understands that with the startup costs of a greenhouse that adding the expense of mechanical controls, which can run up to $3000 for a standard greenhouse, can seem prohibitive.
Growers need to look ahead
Stoltzfus suggests that if automation isn't in the budget at start-up, that you utilize manually operated ventilation (i.e., manual geared operators and crank handles). The key is to use those components that will easily upgrade to automation when the budget allows. "You want to be thinking about the future," says Stoltzfus. "Because that is everyone's goal, to make money and get things a little more automated and improve their systems."
If you must go manual to get started, Advancing Alternatives can set you up with quality cranks to get the job done. A manual system using natural ventilation is still superior to costly, energy draining fans.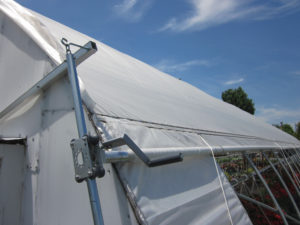 Retrofitting your greenhouse
If your greenhouse isn't already configured for natural ventilation with roll-up sidewalls and ridge vents, it's not too late to get up to speed, according to Stoltzfus. Advancing Alternatives can retrofit existing greenhouses with rack and pinion roof vents and install roll-up sidewalls for large greenhouses as well as hoop houses and high tunnels. These units can be controlled with manual operators, but ultimately you will want to invest in automation. This will achieve a higher level of quality control, free up time for those pressing issues or maybe even taking the afternoon off!
Natural ventilation and cooling pads
Energy savings can be realized with natural ventilation even in a greenhouse that utilizes cooling pads. Advancing Alternatives sells curtains for sidewalls that lock-seal at the bottom to allow cooling fans to work efficiently.
However, cooling pads aren't needed throughout the growing cycle, especially after the crop is removed from the greenhouse. This allows you to take advantage of the energy savings from natural ventilation in two important ways: 1)  when it is cool enough outside to not need cooling pads, 2) when the greenhouse is empty, and the greenhouse still needs to be cooled to prevent poly deterioration.
Natural ventilation provides good ROI
Finally, the ROI for natural ventilation with automation will be realized fairly quickly when you consider the material and operational costs of fan cooling or the labor/time spent manually opening and closing vents, louvers, and side walls. Additionally, your crop will reward you when it doesn't have to wait for you or an employee for cooling or warmth.
Next month: we'll take a more in-depth look at upgrading your greenhouse or high tunnel with automation, including a discussion on rack and pinion roof vents and sidewalls that can be mechanically raised and lowered.
The staff at Advancing Alternatives are here to help you with your greenhouse and high tunnel needs. Give us a shout if you need more information on how you can be more successful in your growing operation.
Article by: Neil Moran