What Are Pruners?
Pruners, otherwise known as pruning shears or hand pruners, are heavy-duty scissors specifically designed to cut plant stems and hard shrub branches. They're the perfect tools to have on hand when gardening, farming, and flower arranging.
What Are Pruners Used For?
The primary purpose of pruners is to remove dead, diseased, or damaged stems and branches from plants and bushes. It's important to remove parts of plants that have died because dead stems tend to attract unwanted insects and harbor diseases. Pruning will also help to improve plant health and prevent undesired growth. To keep gardens healthy and looking their best, it's recommended that you research the types of plants and shrubs you have to identify when it's best to prune them.
How to Choose the Best Pruners
Invest in professional garden shears that'll work best for you! Take a look at the different types of hand pruners and the various types of materials they're made of. Our product comparison guide will also make it simple to compare and contrast available pruners and their features.
Types of Hand Pruners
Anvil Pruners
These pruners boast straight blades to cut down on dead stems and branches. They're ideal for removing twigs and branches that are 1" thick or less, which are commonly seen on plants such as hydrangea and butterfly bushes.
Ratchet Pruners
Similar to anvil pruners, ratchet pruners boast straight blades to cut down on dead stems and branches. However, they have a mechanism that allows the user to cut in stages, providing more leverage and preventing wrist strain.
Bypass Pruners
These hand pruners boast two curved blades for clean cuts on live plants. They're ideal for cutting back stems and greenery that are 1" thick or less, which are commonly seen on plants such as rosebushes or lilacs.
Stainless Steel vs. Chrome Plated Steel vs. Carbon Steel Pruners
Stainless steel blades generally have a non-stick coating that promotes clean cuts and prevents sap or dirt from sticking to them. However, they tend to dull quickly, so you may need to sharpen them frequently.
Chrome plated pruner blades are extremely durable and resist sap and corrosion. Their blades tend to last longer, minimizing the amount of time spent sharpening.
Carbon steel blades are more durable than standard stainless steel blades but are prone to corrosion and staining.
Hand Pruner Comparison Guide
Use this Advancing Alternatives pruner comparison guide to see the similarities and differences between available pruners!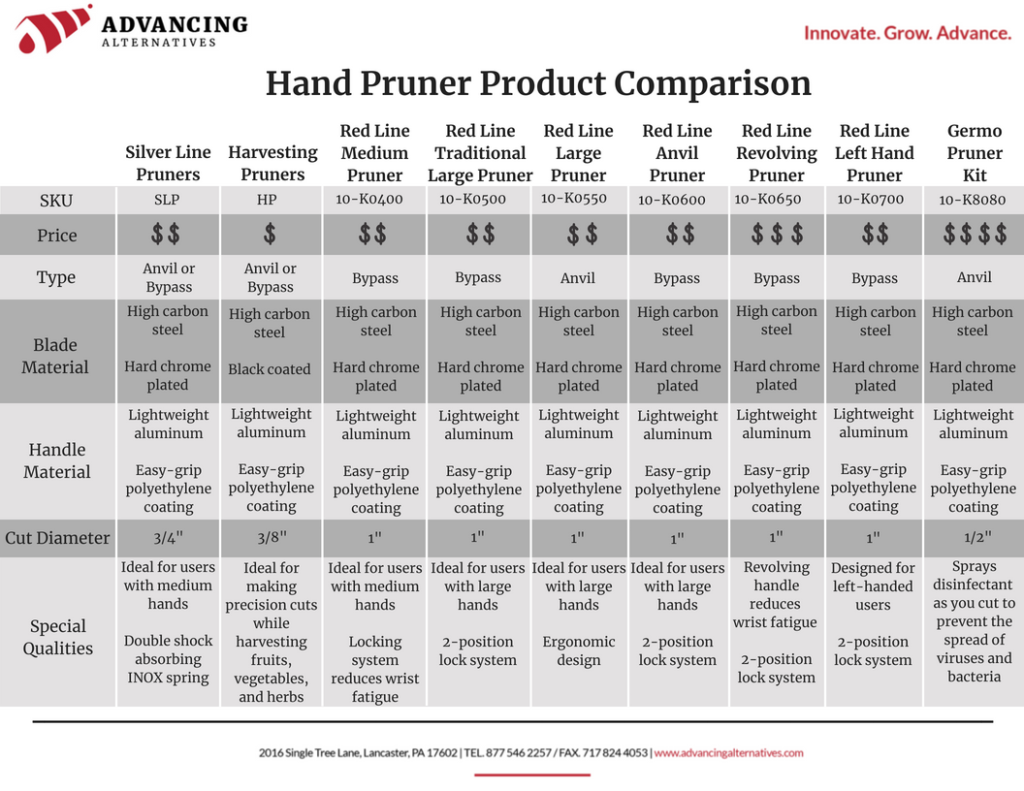 How to Prune a Garden
If you're a beginner gardener, have no fear! We've outlined quick and easy steps to proper pruning. Simply follow this procedure and consider our recommended pruning tips.
Take a look at the plants within your garden and make note of which areas require the most attention.
Adorn gloves and protective eyewear to protect yourself from scratches and any debris that may become airborne as you prune.
Begin the pruning process at one end of your garden and work to the other end, plant by plant.
Remove any dead or diseased portions of plants and trim back overgrowth. Hold the end of branches and stems with one hand, then use your pruners to cut with the other.
Take a step back from your plants, bushes, and trees to check for unevenness or missed overgrowth.
Pruning Tips
Do's
Make clean, deliberate cuts to avoid damaging your plants
Disinfect your pruner blades after each cut if trimming a diseased plant
Encourage plant growth by cutting back stems to the bud or branch
Cut branch intersections that form an angle less than 45 degrees to allow for better growth
Don'ts
Don't twist or turn branches and stems as you cut them
Avoid pulling on tree branches to get a better cutting angle
Try not to over-prune plants — you want at least 2" of length between branches and tree or bush trunks
Refrain from pruning plants right after growth begins in late spring, as it prevents them from fully growing
Hand Pruner Maintenance
With the proper maintenance, your pruners can last for years to come! Simply follow our recommendations below to keep them in pristine condition.
Sharpening
A common question in the gardening community is "can you sharpen pruners?" The answer is yes! You can sharpen hand pruner blades with a file or whetstone. Be sure to dry and oil the blades after each use and sharpen regularly to ensure clean cuts.
Storing
Another frequently asked question is about how to store pruners. When not in use, they should be placed in a cover to prevent accidental cuts or injuries. Be sure to avoid storing them in areas that are exposed to weather and exterior elements. Exposure to rain and moisture are often the cause of rust.
Whether you're looking for heavy-duty or general pruners, we have the cutting tool for you! Our Metallo garden shears are ergonomically designed and ideal for professional users and quality-conscious consumers. When it comes to gardening tools, look no further than Advancing Alternatives.